January 1, 2013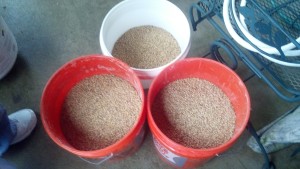 During our Halloween party, my friend Doug and I got to talking about doing another brew together.  We tossed around the idea of pursuing an Eis-IIPA (which would be a freeze concentrated Imperial IPA).  It's a little off the wall, but what the hell it could work!  That being said, we decided to brew a full batch of Imp IPA on my 20gal system so that we could each have 5gal of beer to drink and then 5gal for the experiment.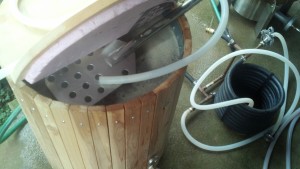 The recipe was derived from the Avery Maharaja brew done on 'Can you Brew It'.  We made some adjustments to use up some of the older ingredients we had on hand.  The grist came out to be more than my 20gal mash tun could handle so we decided to use DME in place of some of the base malt.  Good thing too, stirring in the mash was like stirring 20 gallons of oatmeal.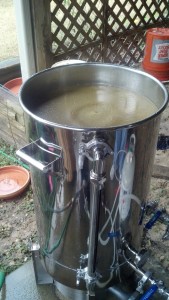 This was the first time I had done a run with both a full mash and full kettle on the bigger system so I calculated efficiency lower than I normally would.  It's a good thing we had extra DME.  The mash efficiency came out to around 45% and there wasn't as much boil off as I had anticipated. We had another really cold brew day and struggled to keep the boil vigorous with the wind and temps.  So, by adding extra DME we managed to hit our initial gravity and got a bonus 2 gallons of wort.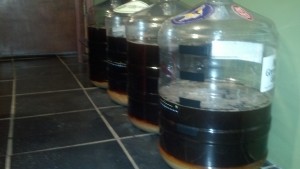 We filled three fermenters with 5gal each and got 3gal in the last one.  The full batches each got two packs of S-05 and the 3gal batch got a smack pack of Wyeast 3726 was going strong by the next morning, but the 3726 took around 60 hours to take of since it was an older smack pack and I hadn't prepared a starter.  Also, the fermentation area was at 65F so it's probably a little cool for the Farmhouse strain.Farmhouse as a bonus experiment.  Fermentation in the S-05 fermenters
Really looking forward to trying the base beer, the farmhouse version and doing the freeze experiment.  I'll follow up with another post about that (maybe even in a timely fashion!)
Cheers!
Chuck