September 3, 2012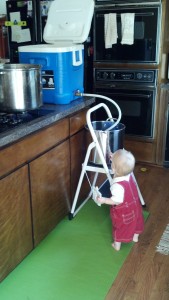 It's been entirely too long since I've updated the blog.  Having a new addition to the family last August has necessitated some priority shifts.  There have been a few brewing related projects that I need to update here such as our lambic barrel project.  For now, I'll post about a beer that I just brewed for our upcoming Halloween party.
This time I wanted to do something a little more experimental.  I had picked up a vial of White Labs WLP670 American Farmhouse, but I wanted something more hoppy than my normal saison recipe.  One thing leads to another and I came up with a Farmhouse IPA recipe.  It's either going to be a complete failure or totally glorious.  Either way, it'll be beer.
The base recipe was a 64/40 of belgian pale and white wheat malt.  Then I added some Carared for color along with a dash of Special B and Chocolate Wheat.  The hop schedule was Magnum for bittering and Amarillo and Chinook for flavor/aroma.  I was aiming for a combination of tangerine and pine.  The mash was a single infusion with a rest temp of 148F.  The crystal malt additions should keep it from drying out quite as far as a normal saison giving a little body to balance the bitterness and hops.
Since I was using my stove-top setup, I over-estimated efficiency a bit and OG only came out at 1.053.  This should still yield around a 6% ABV beer.  Fermentation kicked off within 24 hours and is sitting at ~70F.  I'm going to let it run for about 3 weeks and then sample to determine if I want to dry-hop.  I probably will since I already have it in my head that it'll need it.  With the Brettanomyces in the yeast blend I may go as long as 6 weeks in primary and then dry-hop in a nylon mesh bag in the keg.  That should give it a little more time to develop some of the Brett character.
I'll add the complete recipe in when I get a chance to sit down at my desk.
Enjoy!
Chuck