December 22, 2011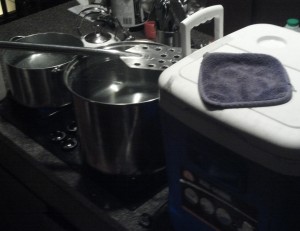 At least once a year I like to brew a Wee Heavy.  One batch is usually enough to last more than the year and I like to keep some for aging and comparing previous year's versions.  In the past couple of versions I've used a varied complex grist with six or eight malts in an attempt to develop malt complexity in the finished beer.  The 2011 recipe was the result of an inspiration to keep it simple and move in a more traditional direction.
I've read articles about the Traquair House Ale (which is one of my favorite examples) having a very simple grist of mostly pale malt with a small percentage of roast barley.  Also, my father-in-law helped me dig up a copy of 'The Scottish Ale Brewer and Practical Maltster' from the Google archives which indicates that traditional scottish ales consisted entirely of pale malt and used a very long boil process (3 hours+).
So, what came together was a recipe that consisted of mostly Golden Promise malt with 2.5 percent Black Patent.  I mashed higher at 156 and did a single decoction to reach mash-out.  The first gallon running were taken into a separate kettle and boiled down to around a quart of malt syrup.  That was then added back to the main boil which ran for a total of two hours.
The color came out a bit darker than I expected based on the Beersmith calculations.  I do plan to try the recipe again with a different dark malt each time trying at least roast barley and chocolate malt.  Honestly, it may be fun to try one with just pale malt and a three hour boil.  I pitched East Coast Yeast's Scottish Heavy strain which I had never used before.  It took a little over two weeks to fullt attenuate, but went from an OG of 1.108 to a FG of 1.017.  Whoa!  Even with the high attenuation, the beer still had an exellent body and a nice residual sweetness without being cloying.
This was a very enjoyable beer to brew and the results were well worth the extra effort.  The decoction may not be entirely necessary when combined with the first running malt syrup technique.  It may be interesting to do some side by side comparisons if I find time to brew each technique relatively close together.
Enjoy!
-chuck
Recipe Specifications
--------------------------
Batch Size (fermenter): 3.50 gal
Boil Size: 4.96 gal
Bottling Volume: 3.10 gal
Estimated OG: 1.112 SG
Estimated Color: 23.7 SRM
Estimated IBU: 24.0 IBUs
Brewhouse Efficiency: 80.00 %
Boil Time: 120 Minutes

Ingredients:
------------
Amt                   Name                                     Type          #        %/IBU
12 lbs 11.6 oz        Pale Malt, Golden Promise (Thomas Fawcet Grain         1        97.6 %
5.1 oz                Black (Patent) Malt (500.0 SRM)          Grain         2        2.4 %
0.74 oz               Magnum [10.00 %] - Boil 120.0 min        Hop           3        24.0 IBUs
0.6 pkg               Scottish Heavy Ale (East Coast ECY07)    Yeast         4        -             

Mash Schedule: Decoction Mash, Single
Total Grain Weight: 13 lbs 0.7 oz
----------------------------
Name              Description                             Step Temperat Step Time
Protein Rest      Add 25.97 qt of water at 126.6 F        122.0 F       20 min
Saccharification  Decoct 12.02 qt of mash and boil it     158.0 F       55 min
Mash Out          Add 0.00 qt of water and heat to 168.0  168.0 F       10 min
4/22/2012 – This beer scored a 41.5 at the NHC Atlanta Regionals.  It proceeded to mini Best of Show for the category but did not advance to the NHC Finals.