December 12, 2011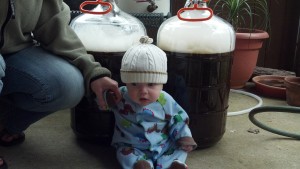 This was the second beer that I would be preparing for New Year's Eve.  Since I already had a light hoppy offering, I wanted to balance the taps with something darker and a little richer.  My brother and I had been tossing around the idea of something with vanilla and oatmeal so I decided to do a 10 gallon batch of porter.
After reading up on the history of porter and some of the historical ingredients, I noticed that treacle was used in some as a way to get flavor and color.  Not having any treacle on hand I went with blackstrap molasses.  This type of molasses has a very intense flavor so I was very restrained with the percentage added to the recipe.  Total it was 8oz in an 11 gallon batch (2.7% of fermentables).
Half of the batch went directly into the keg and was served at NYE.  It was a very good beer with some interesting molasses flavors and aromas.  It really got quite good as it matured over the next month.  I will definitely brew this again.
The other half got split into 3 gallon carboys.  One got a dose of vanilla bean pods that had been soaking in a little Tennessee Whisky.  The other got medium toast american oak cubes that had been soaking in blackstrap rum.  Those have just been kegged and are currently conditioning.
This brew day was approved by 'the man'!
-chuck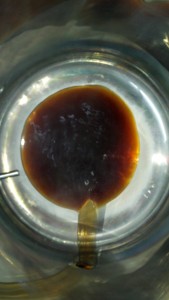 Recipe Specifications
————————–
Batch Size (fermenter): 11.00 gal
Boil Size: 12.50 gal
Bottling Volume: 11.00 gal
Estimated OG: 1.049 SG
Estimated Color: 28.9 SRM
Estimated IBU: 20.1 IBUs
Brewhouse Efficiency: 80.00 %
Boil Time: 60 Minutes

Ingredients:
————
Amt Name Type # %/IBU
8 lbs 8.0 oz Pale Malt, Maris Otter (Thomas Fawcett) Grain 2 45.3 %
1 lbs 8.0 oz Oats, Flaked (1.0 SRM) Grain 5 8.0 %
1 lbs Caramel Malt – 40L (Briess) (40.0 SRM) Grain 6 5.3 %
1 lbs 8.0 oz Chocolate Malt (350.0 SRM) Grain 4 8.0 %
4.2 oz Special B Malt (180.0 SRM) Grain 7 1.4 %
2.0 pkg London Ale (White Labs #WLP013) [35.49 m Yeast 10 -
0.00 gal Atlanta, GA Water 1 -
8.0 oz Molasses, Black Strap (340.0 SRM) Sugar 8 2.7 %
5 lbs 8.0 oz Vienna Malt (3.5 SRM) Grain 3 29.3 %
2.60 oz Goldings, East Kent [4.50 %] – Boil 60.0 Hop 9 20.1 IBUs

Mash Schedule: Single Infusion, Medium Body, Batch Sparge
Total Grain Weight: 18 lbs 12.2 oz
—————————-
Name Description Step Temperat Step Time
Mash In Add 28.00 qt of water at 171.5 F 154.0 F 60 min