December 6, 2011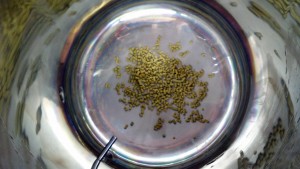 With New Year's Eve approaching, I needed to get some beer ready to go before we could have folks over.  After the Nut Brown Ale incident, the pipeline of lower gravity beers had run dry.  Having two taps on the beer fridge we wanted a light side and a dark side.  First up is an American Pale Ale that I based off of my Am. IPA recipe.  It uses the same technique of first-wort hopping for the bittering addition without the normal 60 minute bittering addition.  I was happy with this in the IPA as it gave a firm bitterness that wasn't too harsh.
I also decided to go back to a hop that I hadn't used in a while with the Mt. Hood.  It has a very nice floral aroma that I thought would play well with the citrus of the Cascades.  The Cascade pellets had been in the freezer for a little over a year, but still had a very nice flavor and aroma if a bit subdued.  Overall, I was very pleased with the hop character of this beer.
Brewday went very well and the numbers were pretty much spot on with just a little higher than expected efficiency.  Filled 11 gallons into the fermenters and pitched a packet of Safale S-05 into each.  Fermentation was active within 18 hours.  After two weeks, I added the dry hop additions directly to the primary fermenters and left for another week.
This beer was in the keg for a week to carbonate and served on NYE.
Recipe:
Batch Size (fermenter): 11.00 gal
Boil Size: 13.00 gal
Bottling Volume: 11.00 gal
Estimated OG: 1.050 SG
Estimated Color: 6.6 SRM
Estimated IBU: 32.3 IBUs
Brewhouse Efficiency: 80.00 %
Boil Time: 60 Minutes

Ingredients:

————
15lbs Pale Malt (2 Row) Bel (3.0 SRM) Grain 78.9 %
3lbs Vienna Malt (3.5 SRM) Grain 15.8 %
1lbs Caramel Malt – 40L (40.0 SRM) Grain 5.3 %
1.50 oz Cascade [5.40 %] – First Wort 60.0 min Hop 15.4 IBUs
1.50 oz Mt. Hood [3.60 %] – First Wort 60.0 min Hop 10.3 IBUs
0.50 oz Cascade [5.40 %] – Boil 20.0 min Hop 2.8 IBUs
0.50 oz Mt. Hood [3.60 %] – Boil 15.0 min Hop 1.5 IBUs
0.50 oz Cascade [5.40 %] – Boil 10.0 min Hop 1.7 IBUs
0.50 oz Mt. Hood [3.60 %] – Boil 5.0 min Hop 0.6 IBUs
0.50 oz Mt. Hood [3.60 %] – Aroma Steep 0.0 min Hop 0.0 IBUs
0.50 oz Cascade [5.40 %] – Aroma Steep 0.0 min Hop 0.0 IBUsIBUs
0.50 oz Cascade [5.40 %] – Dry Hop 7.0 Days Hop 0.0 IBUs
0.50 oz Mt. Hood [3.60 %] – Dry Hop 7.0 Days Hop 0.0 IBUs

Total Grain Weight: 19 lbs

Mash Schedule: Single Infusion, Medium Body, No Mash Out
—————————-
Mash In Add 23.75 qt of water at 167.1F Target: 154.0F for 60 min