October 24, 2011
So, the first run with the new 20 gallon boil kettle from Stout Kettles and Tanks.  I was really stoked to get to brew with it as I had an extended wait time due to some factory shutdown in China and then a couple month interruption with the birth of my son right before it arrived.  Maybe even a little too stoked…  Six months after the order, it was finally time.
Being that fall had arrived, I was in the mood for something a little more robust but not quite a stout or porter.  I also needed something I could turn around in three weeks since I wanted to have it ready for my birthday.  North English Brown was the final recipe choice.  It wasn't something I had brewed before and in hindsight I probably should have picked a recipe that I already had dialed in for an inaugural run on a new piece of gear.  Yeah, that's totally what I should have done…
Things went fairly smooth through the course of the mash.  I hit temps perfectly and started to lauter/sparge.  The tangential inlet port on the kettle sure is nice.  It was a piece of cake to hook up the hose from the pump and open the valve.  When the first sparge was done, I just shut the valve, turned off the pump and disconnected the hose in prep for vorlauf'ing the second sparge.  Couldn't be simpler.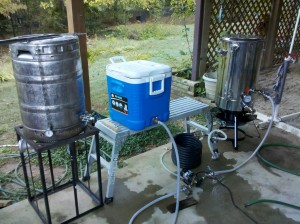 The issue occurred when I realized that I hadn't marked off the volume gradients on the sight glass.  I started to second guess the volume calculations based on the assumption that the kettled held exactly 20 gallons.  I probably over-sparged by about 3 gallons.  I also ran into an issue where I overshot my boil-off rate.  The new kettle didn't boil nearly as hard on the little turkey-fryer jet burner as the converted keg had.  So, I ended up with around 12.5 gallons of 1.032 OG wort.
No biggie, it'll just be a nice Mild.  Right?  Not to mention I can pitch my aging Trappist strain in the extra 2.5 gallon batch to revive it.  Seemed like a good plan.  The planned original 10 gallons got a pitch of White Labs Edinburgh starter that I had prepared.  Both fermenters ended up with an odd smokey/phenolic flavor that was hard to get past.  It definitely seemed a bit chloro-phenolic, so it was probably a problem with the water supply.  Time for a new filter cartridge (I suppose it could also have been the tap water in the starter, but that seems like too small of a volume to make a difference).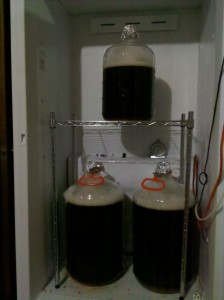 The trappist version ended up with a nice aroma/flavor profile, but there's almost no body to the beer.  Even carbonated it is super thin and watery.  I may revisit the idea of a Belgian yeast in a English brown ale recipe as I really enjoyed the flavors.  This batch, however, wasn't worth finishing.  The 10 gallons of phenolic beer went down the drain and the trappist is sitting in a keg hoping for a blending opportunity.  Hmm, maybe a sour addition could spruce things up…
Since this wasn't exactly a success and this was a first time recipe, I'm not going to post the details of the grainbill/schedule.  I have no idea whether or not it wold have been on target for style and I don't want to steer anyone wrong.
Hopefully, better luck next time.
-chuck