October 12, 2011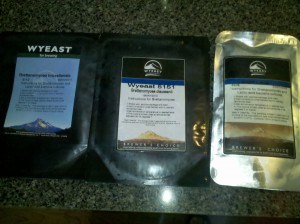 One of the things I like to do from time to time is a side by side comparison of different brewing techniques.  The goal, of course, is to perform the experiment while limiting the change to only one variable.  In this case, I'll be comparing primary fermentation results from three different Brettanomyces strains.  The local shop only had the Wyeast varieties on hand and I didn't want to wait for an order to arrive, so this will only showcase those three.  Also, I was a bit worried that the pack of Brett Lambicus was from 2008 but decided to proceed since it would be a lower gravity beer and only a 1gallon wort
The base recipe I chose was a simple patersbier based on my Belgian Pale Ale recipe with less hop additions.  Brewing was done with my stove-top all-grain 3 gallon setup.  I aimed for a more dextrinous wort to leave some residual sugars for the Brett to continue to eat post primary fermentation.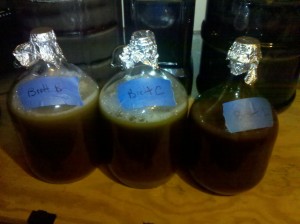 The Brett Clausenii sample had active fermentation with krausen within 24 hours.  That yeast pack was from May 2010.  Brett Bruxellensis (Mar 2011 package) fermentation lagged for around 3 days then took off with a more aggressive appearance than the Brett. C had.  Brett Lambicus worried me a bit as it lagged for around 9 days.  The fermenters were all in a clean area and had been sealed since pitching the yeast so I decided to let it complete fermentation and sample it.  Brett L had the least aggressive fermentation appearance of all three, but it seems more cloudy with yeast in suspension.
These should be ready for packaging in early November depending on gravity.  I plan to put them in belgian 750ml bottles for the thicker glass and bring them to a homebrew club meeting for a tasting.
-chuck
Recipe:
————————–
Batch Size: 3.00 gal
Boil Size: 4.07 gal
Estimated OG: 1.045 SG
Estimated Color: 7.6 SRM
Estimated IBU: 20.0 IBU
Brewhouse Efficiency: 80.00 %
Boil Time: 60 Minutes
Ingredients:
————
Amount        Item                                      Type         % or IBU
4.00 lb       Pilsner (Weyermann) (1.7 SRM)             Grain        88.89 %
0.50 lb       Caramunich I (Weyermann) (51.0 SRM)       Grain        11.11 %
0.75 oz       Styrian Goldings [3.50 %]  (60 min)       Hops         16.7 IBU
0.25 oz       Styrian Goldings [3.50 %]  (20 min)       Hops         3.4 IBU
0.50 oz       Goldings, East Kent [5.00 %]  (0 min) (AroHops          -
1 Pkgs        Brettanomyces Bruxellensis (Wyeast Labs #3Yeast-Ale
Total Grain Weight: 4.50 lb
—————————-
Single Infusion, Medium Body, Batch Sparge
Step Time     Name               Description                         Step Temp
60 min        Mash In            Add 5.63 qt of water at 166.0 F     154.0 F