September 4, 2011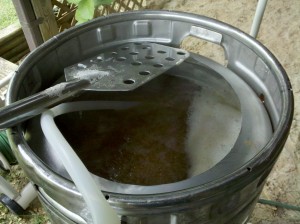 It's that time of year ago.  Fall is in the air and the game is on.  We're talkin' football season.  A couple of years ago I started brewing a beer for the occasion.  We wanted something light and sessionable with a good flavor profile.  The first couple of incarnations were a SMASH (Single Malt and Single Hop) recipe using all Vienna malt, Hallertauer hops and White Labs Kolsch yeast.  This is currently batch number five and the second run of the current recipe.
Over time, I've adjusted the grain bill to reduce cost a little by having a larger percentage of 2-row with some Vienna malt for color and flavor.  There is also a percentage of light Crystal (40L) for body and head retention.  The hops have moved to use whatever my current clean bittering hop on-hand is (this time 10% Magnum) with a dash of Cascade for flavor and a dash of Hallertau for aroma.  The late additions are not enough of either to seem conflicted.  They lend their respective profiles subtly.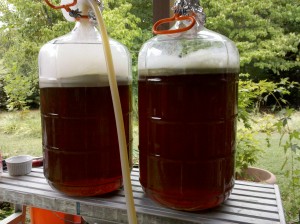 Brew day went without a hitch and I hit all my target numbers for this 11 gallon batch.  I will say that this is the first time that I've used Malt-Euro 2-row and it seems like the wort out of the chiller was way more clear than I expected.  It was almost like using pilsner malt.  I'll have to see if it was a fluke this time around or if it's a characteristic of that malt.
I also rotate around through whatever clean American ale yeast I'm using at the time.  This time it was the Wyeast 1272 American II.  I've also used S-05 and of course the Kolsch yeast with good success.  The Kolsch takes a little more patience before it's ready, the 1272 is about six weeks and the S-05 is the fastest to drop clear.
Let me know if you brew some of this up too.  It's one of the house favorites.  Got Titans!
-chuck
Recipe:
Recipe Specifications
————————–
Batch Size: 11.00 gal
Boil Size: 13.44 gal
Estimated OG: 1.042 SG
Estimated Color: 5.7 SRM
Estimated IBU: 21.4 IBU
Brewhouse Efficiency: 80.00 %
Boil Time: 60 Minutes
Ingredients:
————
Amount        Item                                                                Type        % or IBU
10.00 lb         Pale Malt (2 Row) US (2.0 SRM)                Grain        62.50 %
5.00 lb           Vienna Malt (3.5 SRM)                                Grain        31.25 %
1.00 lb           Caramel Malt – 40L (Briess) (40.0 SRM)    Grain        6.25 %
1.00 oz          Magnum [10.00 %]  (60 min)                       Hops        17.8 IBU
0.50 oz          Cascade [5.50 %]  (20 min)                          Hops        3.0 IBU
0.50 oz          Hallertauer [3.90 %]  (5 min)                        Hops        0.7 IBU
1 Pkgs          American Ale II (Wyeast Labs #1272)       Yeast-Ale
Mash Schedule: Single Infusion, Light Body, Batch Sparge
Total Grain Weight: 16.00 lb
—————————-
Single Infusion, Light Body, Batch Sparge
Step Time     Name               Description                         Step Temp
60 min        Mash In            Add 24.00 qt of water at 159.5 F    150.0 F