August 21, 2011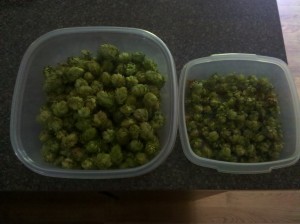 Well, the new baby has arrived and life is slowly getting into a routine.  I've been on time off for the last two weeks for the birth and while it has been a crazy ride of sleep deprivation and poor nutrition, I did manage to use one afternoon to do another small batch to get the beer flowing again.
I changed out one of the hop varieties from the last run of Fiery Gizzard Red to use the Centennials and Cascades that I've harvested from the back yard.  The Centennial was used in place of the Pacifica.  I know, not too big of a risk with a Cascade/Centennial combo.
The brew day went fairly smooth considering the fact that 80% of my brain wasn't functioning.  I guess there's something to be said for muscle memory.  The grist was mashed at 150F for an hour and was batch sparged twice yielding a 3 gallon pre-boil volume.  Looking back, I forgot to adjust the water volumes for using leaf hops instead of pellet and only ended with ~2 gallons in the fermenter.  Ah well, it's better than no beer.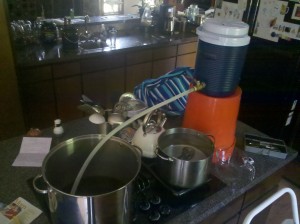 I also only used half of the starter that I had going of the Wyeast 1272 American II strain and continued to step it up for an upcoming brew of what we call 'Football Beer' ( our house blonde ale ).  Fermentation control is a little different since my freezer stopped working, so I've resorted to putting two frozen gallon jugs in to cool it off and swapping them every twelve hours.  It's kept a consistent temp between 62 and 64F.  Not bad.
I'll probably try to get a few beer reviews up this coming month as well as hopefully getting a blonde ale brewday and maybe a big barleywine to celebrate the birth of our son.
-chuck
Recipe:
Batch Size: 2.50 gal
Boil Size: 3.96 gal
Estimated OG: 1.047 SG
Estimated Color: 12.5 SRM
Estimated IBU: 38.6 IBU
Brewhouse Efficiency: 75.00 %
Boil Time: 60 Minutes
Ingredients:
————
Amount      Item                                               Type         % or IBU
4.00 lb       Pale Malt (2 Row) UK (3.0 SRM)         Grain       91.32 %
0.25 lb       Caramel/Crystal Malt – 80L (80.0 SRM) Grain      5.71 %
0.13 lb       Special B Malt (180.0 SRM)                Grain        2.97 %
0.35 oz       Magnum [10.00 %]  (60 min)               Hops     26.1 IBU
0.20 oz       Cascade [?? %]  (20 min)                Hops       4.5 IBU
0.20 oz       Centennial [?? %]  (15 min)                 Hops       3.7 IBU
0.20 oz       Cascade [?? %]  (10 min)                Hops       3.0 IBU
0.20 oz       Centennial [?? %]  (5 min)                  Hops       1.5 IBU
0.20 oz       Cascade [?? %]  (0 min)                 Hops          -
1 Pkgs        American Ale II (Wyeast 1272)            Yeast-Ale
Total Grain Weight: 4.38 lb
—————————-
Single Infusion, Medium Body, Batch Sparge
Step Time     Name               Description                         Step Temp
60 min        Mash In            Add 5.48 qt of water at 161.4 F     150.0 F