July 3, 2011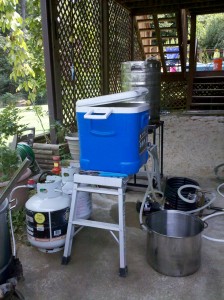 Fourth of July weekend was the perfect time to get another brew done.  My brother was in to visit from Kansas, so I let him pick the style du jour.  We settled on another round of saisondue to the fact that the experimental batch was almost gone and my temperature controlled fermentation freezer was out of commission.  Perfect also because I wanted to go another generation with the saison culture that I worked up last time.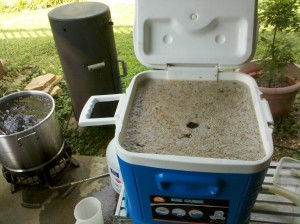 This time around we planned for a full 10 gallon batch.  I adjusted the Vienna down a bit and increased the white wheat a bit.  This was mostly to try to increase the head and make it more mousse-like.  The mash tun was just about at capacity, but we managed to squeeze it all in and hit our numbers.
I mashed a little higher this time (152F) to give the funky bugs a little more to eat.  The starter was stepped up from the washed cake of Funkaliscious to two liters.  Half was pitched straight into one of the fermenters.  The other fermenter got a pitch of starter made from Jolly Pumpkin Bam Bier dregs and was given 24 hours head start before pitching the Funkaliscious starter.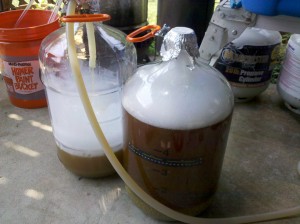 Fermentation took off within 12 hours of pitching the main starter.  After 2 days at high krausen, 1lb of unfiltered, uncooked honey was added to each batch.  This really invigorated the yeast and it looked like the fermentening beer was churning violently.
I have about 5lbs of apples from our green apple tree in the back yard set aside.  I may take a small portion of each batch and do a secondary on apples.  Really looking forward to getting four possible beers out of this brewday.
-chuck
Recipe Specifications
————————–
Batch Size (fermenter): 11.00 gal
Boil Size: 13.98 gal
Bottling Volume: 10.50 gal
Estimated OG: 1.059 SG
Estimated Color: 5.4 SRM
Estimated IBU: 27.2 IBUs
Brewhouse Efficiency: 80.00 %
Boil Time: 60 Minutes
Ingredients:
————
Amt                   Name                                              Type          #        %/IBU
12 lbs               Pilsner (2 Row) Bel (2.0 SRM)                    Grain   1   55.3 %
4 lbs 6.4 oz     Wheat – White Malt (Briess) (2.3 SRM)    Grain   2   20.3 %
2 lbs 3.2 oz      Vienna Malt (Weyermann) (3.0 SRM)       Grain   3   10.1 %
1 lbs 1.6 oz      Aromatic Malt (26.0 SRM)                          Grain   4    5.1 %
1.21 oz             Magnum [10.00 %] – Boil 60.0 min              Hop     5   19.9 IBUs
1.62 oz             Goldings, East Kent [4.50 %] – Boil 20.0    Hop     6   7.2 IBUs
2 lbs                Honey (1.0 SRM)                                           Sugar  7   9.2 %
Mash Schedule: Single Infusion, Medium Body, Batch Sparge
Total Grain Weight: 21 lbs 11.2 oz
—————————-
Name              Description                             Step Temperat Step Time
Mash In           Add 33.00 qt of water at 163.5 F        152.0 F       60 min