June 18, 2011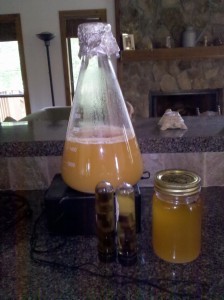 Since my wife is pregnant, I've been working on more long term brewing projects lately.  Of particular interest has been starting some sour beers.  At the end of March, I got in on the last shipment of East Coast Yeast until the Fall.  Since stock was limited, I got one vial of Al's Flemish Ale blend.
Les and I had brewed a Lambic earlier in the spring and decided to get together again for an Oud Bruin.  The culture had been sitting in the fridge for a few months, so I split the vial and did both an aerobic starter and an anaerobic starter.  The aerobic starter was done as normal on the stirplate and stepped up for the initial pitch to 10 gallons.  The anaerobic was started in a sealed jar to which I added oak cubes (boiled for 30 minutes to reduce oak flavor).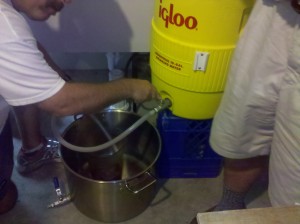 The brewday went well even though I arrived a little late.  Les had the water hot and was ready to dough-in by the time we got there.  Here are the notes from the course of the day:
·         Mashed at 155F for 60 minutes
·         Triple sparged to get 14.5 gallons in kettle
·         All hops were 60 minute
·         OG was 1.060
·         Bugs had fermentation going in 5 hours.
We sampled plenty of good homebrew as well as some commercial examples.  The latest Sierra Nevada Beer Camp pack was there along with some sours.  Rodenbach Grand Cru capped the afternoon.  That and a pretty good downpour.  We lucked up and were already chilling as the rain started.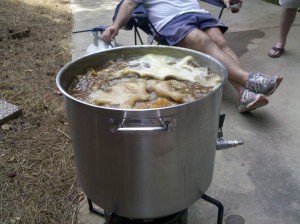 I had fun brewing and the girls had fun in the pool.  Definitely going to have to do it again soon.
-chuck
Recipe Specifications
————————–
Batch Size (fermenter): 11.00 gal
Boil Size: 14.50 gal
Bottling Volume: 11.00 gal
Estimated OG: 1.058 SG
Estimated Color: 16.1 SRM
Estimated IBU: 21.7 IBUs
Brewhouse Efficiency: 73.00 %
Boil Time: 90 Minutes
Ingredients:
————
Amt                   Name                                                   Type          #        %/IBU
16 lbs               Pilsner (2 Row) Ger (2.0 SRM)          Grain         1        67.4 %
4 lbs                 Vienna Malt (3.5 SRM)                      Grain         2        16.8 %
2 lbs                 Caramunich Malt (56.0 SRM)            Grain         3        8.4 %
8.0 oz               Special B Malt (180.0 SRM)               Grain         5        2.1 %
4.0 oz               Carafa II (412.0 SRM)                          Grain         6        1.1 %
1 lbs                 White Wheat Malt (2.4 SRM)           Grain         4        4.2 %
3.25 oz             Hallertauer [3.90 %] – Boil 60.0 min     Hop           7        21.7 IBUs
Mash Schedule: Single Infusion, Medium Body, Batch Sparge
Total Grain Weight: 23 lbs 12.0 oz
—————————-
Name              Description                             Step Temperat Step Time
Mash In           Add 29.69 qt of water at 165.9 F        154.0 F       60 min