June 5, 2011
Good grief.  Only one post for May and not a lot of brewing going on.  Life is busy!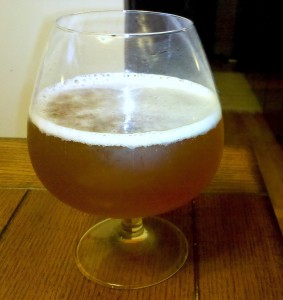 On the bad news side, my fermentation freezer has crapped out and I'm not sure when I'll be able to get it fixed.  I may be doing a lot of Belgian work this summer.  On the good news side, I opened a bottle of Saison Funkaliscious since I was sending it to the 2011 Bluegrass Cup so that I could take some tasting notes before I got the scoresheets back.  Here's what I found:
Aroma: Up front fruitiness with some lemon and tangerine.  There is a light barnyard funk present in the background.  The horse blanket plays a nice harmony to the fruit.  No discernable spice, hop or alcohol notes present.  Very light malt character comes through as the beer warms a bit.  Very pleasant with no single characteristic dominating.
Appearance: Medium white head with mixed size bubbles that fades quickly but lingers on the top of the beer like sea foam.  Foam moderately laces the glass as the beer is consumed.  Carbonation is visibly effervescent.  Color is golden orange with a slight haziness.
Flavor: Low fruit notes with honeydew melon and citrus.  Citrus is faint and acidity is very low.  There is a moderate spiciness from the saison yeast phenols.  Pilsner malt is distinct in the aftertaste with some breadiness.  Very light earthy hop flavors are present.  Finishes dry and very clean on the palate.  Has a bite from the high level of carbonation combined with the bitterness.
Mouthfeel: Light and crisp body that feels very nice and refreshing.  High effervescent carbonation prickles the tongue.  A medium alcohol is picked up in the mouthfeel but does not have any hotness or harshness.  Not much tartness present.
Overall Impression: This beer is very refreshing and easy to drink.  I enjoyed it very much.  However, the tartness and acidity was not where I wanted this beer to be.  I think the next batch will need an extended period of Lacto. D. activity before pitching the saison/brett cultures.  I was very happy with the Brettanomyces presence as well as the saison yeast profile.  I will definitely be brewing this again and trying to refine the sourness that I want.
-chuck