May 10, 2011
Well damn, it's been almost a month since my last post.  I had been on a pretty good roll too, but sometimes life takes over.
So to get everyone back up to speed, the last time we brewed was for Lambic #2 which was a split batch with a friend from Brewmasters of Alpharetta.  Since we had enough gear, I also brewed another American IPA while the lambic was going on Les's system.
This time around I decided to go with some hops that I had never used before as well as experiment with using First Wort Hopping instead of a 60 minute bittering addition.  I also did additions every five minutes from 20 down to flameout.  The plan also called for a decent amount of dry-hopping.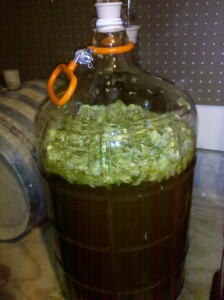 The brew went really well and we hit all the numbers.  Pitched a healthy starter of 1272 American II yeast and 2 days later added the 1lb of table sugar which i had reduced to a simple syrup and cooled.  After two weeks in primary, I transferred to secondary due to the large amount of yeast caked up along the sides and neck of the carboy.  Primary had been quite vigorous.  The 2oz of dry-hops were added to the secondary carboy and the beer transferred on top.  After 6 days the beer was transferred to keg and is currently carbonating.
Initial tastes are a firm but smooth bitterness.  Hop aroma and flavor are strongly resinous with mild hints of grapefruit and tangerine.
Here's the recipe:
Ingredients:
————
Amount        Item                                      Type         % or IBU
8.00 lb       Pale Malt (2 Row) Bel (3.0 SRM)           Grain        71.43 %
1.65 lb       Vienna Malt (3.5 SRM)                     Grain        14.73 %
0.55 lb       Caramel Malt – 40L (Briess) (40.0 SRM)    Grain        4.91 %
0.50 oz       Chinook [10.00 %]  (60 min) (First Wort HoHops         16.7 IBU
0.50 oz       Chinook [10.00 %]  (Dry Hop 6 days)       Hops          -
0.50 oz       Summit [15.80 %]  (Dry Hop 6 days)        Hops          -
0.50 oz       Summit [15.80 %]  (60 min) (First Wort HopHops         26.3 IBU
0.33 oz       Chinook [10.00 %]  (20 min)               Hops         6.1 IBU
0.33 oz       Summit [15.80 %]  (15 min)                Hops         7.8 IBU
0.33 oz       Chinook [10.00 %]  (10 min)               Hops         3.6 IBU
0.33 oz       Summit [15.80 %]  (5 min)                 Hops         3.2 IBU
0.33 oz       Summit [15.80 %]  (0 min) (Aroma Hop-SteepHops          -
0.33 oz       Chinook [10.00 %]  (0 min) (Aroma Hop-SteeHops          -
1.00 lb       Sugar, Table (Sucrose) (1.0 SRM)          Sugar        8.93 %
Mash Schedule: Single Infusion, Medium Body, No Mash Out
Total Grain Weight: 10.20 lb
—————————-
Single Infusion, Medium Body, No Mash Out
Step Time     Name               Description                         Step Temp
60 min        Mash In            Add 12.75 qt of water at 166.0 F    154.0 F
-chuck