April 11, 2011
For the past two weeks, I've been working on a yeast propagation project for this saison.  It started when I cultured up the dregs from a bottle of The Bruery's Saison De Lente (which is a very good Saison in my opinion).  This stepped up to around an 800mL worth of starter.  Upon completion, I set it aside in a sanitized jat and started a 1L started of my Wyeast 3724 culture along with cultures saved from an Orval dreg starter.  The morning of brewing, I combined equal parts of each starter into a little more fresh wort and let it spin on the stirplate for the duration of the brewing.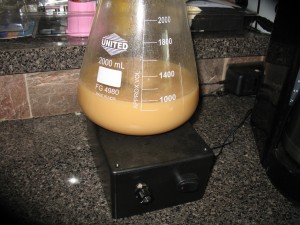 Now, if you're keeping track that potentially two saison saccharomyces strains and three brettanomyces (wild yeast) strains.  I also planned to add some fresh Lactobacillus D. starter into the wort just before pitching the yeast blend.  I also kept a small portion of the yeast blend for the next batch and pitched about 1L into the wort.
The recipe was what I consider a fairly straightforward grainbill for a saison.  I did a small 2.5gallon batch since I'm testing this blend and I mashed a little higher than I normally would (150F) since I wanted to give the bugs a little more to munch.
OG came out just a tad higher than planned at 1.060.  I'm attributing that to the honey and maybe going a few ounces over measuring the grains.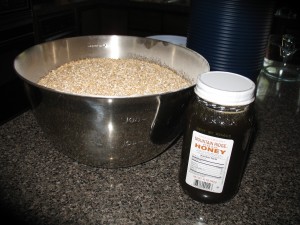 Chilled down to 80F and pitched the Lacto culture.  The fermentation freezer was set for 62F and I let the wort slowly cool in there for about 4 hours before pitching the yeast blend.  I'm not looking for a lot of sour out of the Lacto, just a bit of tartness.  Over the course of the next 48 hours, I slowly ramped the temp up to 80F again by raising the temp in the freezer by 4 degrees every 12 hours.
And here's the recipe:
Recipe Specifications
————————–
Batch Size: 2.50 gal
Boil Size: 3.49 gal
Estimated OG: 1.057 SG
Estimated Color: 5.4 SRM
Estimated IBU: 29.9 IBU
Brewhouse Efficiency: 80.00 %
Boil Time: 60 Minutes
Ingredients:
————
Amount        Item                                      Type         % or IBU
2.50 lb       Pilsner (2 Row) Bel (2.0 SRM)             Grain        52.63 %
1.00 lb       Vienna Malt (Weyermann) (3.0 SRM)         Grain        21.05 %
0.50 lb       Wheat – White Malt (Briess) (2.3 SRM)     Grain        10.53 %
0.25 lb       Aromatic Malt (26.0 SRM)                  Grain        5.26 %
0.30 oz       Magnum [10.00 %]  (60 min)                Hops         22.0 IBU
0.40 oz       Goldings, East Kent [4.50 %]  (20 min)    Hops         8.0 IBU
0.50 lb       Honey (1.0 SRM)                           Sugar        10.53 %
Mash Schedule: Single Infusion, Light Body, No Mash Out
Total Grain Weight: 4.25 lb
—————————-
Single Infusion, Light Body, No Mash Out
Step Time     Name               Description                         Step Temp
60 min        Mash In            Add 5.31 qt of water at 156.8 F     146.0 F
Enjoy!
-chuck
05/21/2011 – Bottles into 750ml belgian bottles with corks and cages.  Primed with 3oz corn sugar for ~4volumes of CO2.
06/05/2011 – Added Tasting notes