April 18, 2011
After spending some time talking Lambics with Les from Brewmasters of Alpharetta and discussing the various techniques used to produce them, we decided to get together and do a collaborative brew.  Brewday was this past weekend and went fairly well.  We decided to abort our planned turbid mash since the wind was fairly strong and we were having problems with the burners.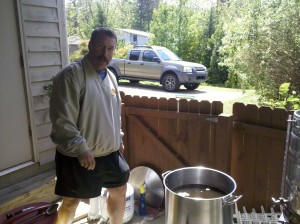 I had saved a half pint of wort with Bugfarm V from East Coast Yeast and prepared some starters.  Half of what I had was pitched into the stirplate with fresh wort and stepped up to ~1.5L.  The rest was carefully poured into two sanitized White Labs vials on top of oak cubes that I had boiled to remove the flavor.  These vials and the oak would get pitched after primary fermentation to add the lacto, pedio and brett bugs that would be growing in the oak.
We used a similar grist to the last lambic I did but had to sub some of the red winter wheat with flaked wheat since Whole Foods was out.  Final grainbill was:
10.00 lb      Pale Ale (Dingemans) (3.3 SRM)            Grain        62.50 %
3.00 lb       Raw Spelt                                                    Grain        18.75
2.00 lb       Raw Red Winter Wheat                           Grain        12.50
1.00 lb       Wheat, Flaked (1.6 SRM)                         Grain        6.25 %
1.5 oz       Aged Hallertauer  [3.2 %]  (90 min)                       Hops        5.5 IBU
We did a single infusion mash with a starting temp of 151F.  A 2 gallon mash out decoction was done to stop conversion and we sparged with 175F water to collect~12 gallons of pre-boil wort at 1.032OG.  After a 90 minute boil, we collected ~8 gallons of 1.047OG wort chilled to 74F.  I took about 3.5 gallons for myself and Les took the rest.  Pitched the Bugfarm starter and had active krausen with 24 hours.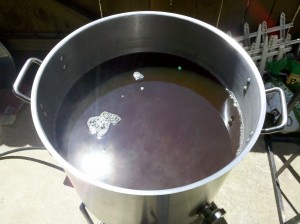 I was a little surprised how red this wort looked compared to the previous batch.  The grist was very similar.  I almost wonder if there was a mistake at the homebrew shop when I picked up the Belgian Pale.  I'm also curious to see how this compares in taste and complexity to the previous batch.  Al from ECY said that this batch may get sour faster with the starter of 2nd generation bugs.
We also ran a batch of my American IPA in parallel since Les brought his equipment, but I'll save that for another post…
-chuck