April 1, 2011
I've done a few Irish Red's over the past few years.  This will be recipe number four.  I've decided to clean up the grain bill a bit this time as when I originally designed it I was in kitchen sink mode.  I don't know what it is about getting ambitious late at night on a work night, but I did it again this past Monday.  I started getting everything together to brew around 8pm.  Sure, plenty of time to finish before midnight…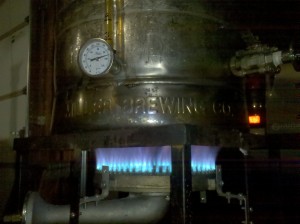 The plan was to fire up the big system and get a full 11 gallon batch.  Half of it is going in the 5gallon bourbon barrel from Tuthilltown Spirits.  I want to try to get at least one clean bourbon beer out of it before I really funk it up.
Being a full batch, I was pushing the limit of the mash tun at 20lbs of grain.  I've done more, but had to mash thicker than I liked and got lower efficiency as a result.  This is about the limit I like for a 1.5qt/lb ratio.  Efficiency came out around 83% for this batch.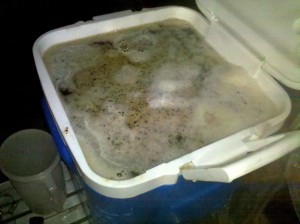 This was also the first full brew with the new burner under the kettle.  Figuring out the flame height added some time to the brew.  Definitely took longer to get things host this time around.  Pretty sure I've got it dialed in for next time and should be able to get back to my four hour brew.
By the time it was all said and done, it was 1:30am.  That didn't include cleanup.  I had to leave it for the next day after work.  By the time I got to it, the mash tun already started to smell like vomit.  Definitely think I'll stick to controlled cultures for souring if that's what a sour mash is going to smell like.  Eww.
I pitched about 800mL of Irish Ale starter in each fermenter and within 18 hours they had happy krausen.  Recipe's at the end.  Cheers!
-chuck
04/12/2011 – Racked one of the carboys into the bourbon barrel.
Batch Size: 11.00 gal
Boil Size: 13.69 gal
Estimated OG: 1.048 SG
Estimated Color: 9.9 SRM
Estimated IBU: 21.1 IBU
Brewhouse Efficiency: 75.00 %
Boil Time: 60 Minutes
Ingredients:
————
Amount        Item                                      Type         % or IBU
18.00 lb      Pale Malt (2 Row) UK (3.0 SRM)            Grain        90.54 %
1.50 lb       Carared (Weyermann) (24.0 SRM)            Grain        7.55 %
0.25 lb       Special B Malt (180.0 SRM)                Grain        1.26 %
0.13 lb       Roasted Barley (300.0 SRM)                Grain        0.65 %
2.50 oz       Goldings, East Kent [4.50 %]  (60 min)    Hops         18.8 IBU
0.50 oz       Goldings, East Kent [4.50 %]  (20 min)    Hops         2.3 IBU
2 Pkgs        Irish Ale (White Labs #WLP004)            Yeast-Ale
Mash Schedule: Single Infusion, Medium Body, Batch Sparge
Total Grain Weight: 19.88 lb
—————————-
Single Infusion, Medium Body, Batch Sparge
Step Time     Name               Description                         Step Temp
60 min        Mash In            Add 24.85 qt of water at 161.4 F    150.0 F