March 11, 2011
A few weeks ago I picked up this year's release of Sierra Nevada's Bigfoot Barleywine.  Even though a two year vertical isn't all that dramatic, I invited a friend over to have a taste from both last year's and the new and compare notes.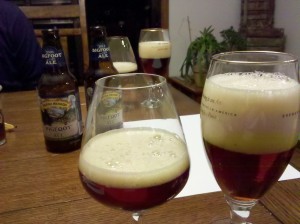 Here are the tasting notes from each:
2010:
Aroma – <Me> Big maltiness with some floral ( roses ) alcohol.  Just a faint hint of the resinous pine hop aroma that this beer had when it was released. <Doug> Some breadiness and caramel to the rich malt.  Low resiny hops.  Low esters.  Some perfumy alcohol.
Appearance – <Me> Deep amber color and very clear.  Moderate tan head that fades to a slight ring around the glass.  Leaves some legs on the glass as swirled.  <Doug> Some ruby to the deep amber color.  Off-white/tan head with variable sized bubbles.  Head thins but persists.  Legs when swirled.  Some lacing.
Flavor – <Me> Intense but clean malt flavor profile.  Moderate resinous hop flavor.  No ester flavors.  No diacetyl.  Bitterness is firm and favored in the balance.  Not at all sweet or cloying.  Mild citrus hop aftertaste, like clementines.  <Doug> Rich, intense malt.  Slightly bready.  Some alcohol.  Firmly bitter with slight resinous flavor.  Balance is decidedly bitter.  Clean finish with lingering bitterness.
Mouthfeel – <Me> Medium-full body with a medium carbonation level.  Coats the tongue a bit and stays on the palate.  Not astringent.  Alcohol is not hot or harsh.  <Doug> Also has some creaminess.
2011:
Aroma – <Me> Strong aromas of mint, resin and pine.  Malt aromas are completely masked by the hops.  No esters or diacetyl.  Alcohol is very subdued.  Aroma is all hops in this one.  <Doug> Hop forward with a very complex hop character.  Resin, some citrus, pine, onion and minty are present.  Low clean malt.  Low to no esters.  Very low alcohol and no perfumy fusels.
Appearance – <Both> Same as 2010
Flavor – <Me> Minty, resiny and pine hop flavor is up front and slightly aggressive.  Malt is light compared to 2010 and the stronger hop flavors.  No esters or diacetyl.  Bitterness is firm but not as intense as the 2010.  Seems to be more in balance.  Clean finish without as much aftertaste.  <Doug> Hop forward.  Mirrors aroma with lots of complexity.  Malt is rich.  No toast or roast and very low caramel.  Firmly bitter.  Very close to being balanced.  Finish is bitter but close to balanced.
Mouthfeel – <Both> Same as 2010
Impression – Both of us agreed that both examples of this beer were very well made with no flaws and within guidelines for the style.  They were both very enjoyable and surprisingly different.  I think we both preferred the higher hop flavor and aroma presence of the 2011.  However, blending the last few ounces of each 50/50 into a glass yielded the most enjoyable example of American Barleywine of the evening.  Great job Sierra Nevada.  Thanks for the assistance Doug!
-chuck