March 13, 2011
This year's Peach State Brew Off finished yesterday after a week of judging the 518 entries that they received!  Covert Hops Society did an excellent job running a very successful event.  This year I was pleased to participate as both an entrant (with four beers submitted) and as a judge.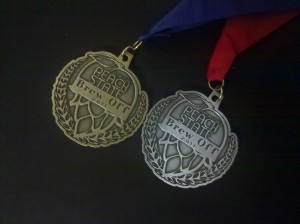 Since I live about 30-40 minutes from the judging site it was impractical for me to make it down to any of the early sessions during the week.  Traffic into metro Atlanta during rush hour is a bit prohibitive in that regard.  However, I was able to join in during both of the sessions on the actual 'day of' the competition.
The morning session went very well.  I was in the flight for
Amber Hybrids
which includes California Common and both styles of Altbier.  Most of the flight was Cali Common with one of each Alts.  The Alts took first and second in the flight with one of the Commons coming in third.  There weren't any bad beers in the flight.  The biggest issue with the Cali Common was getting the beer withing style parameters.  We had some good examples and some that were off wither in hop seletion of bittering levels.  All in all, not a bad flight.
During the afternoon flight I drew the Sour beer table.  This was a very competitive flight.  There were eight total with four Flanders Reds and one each of Berliner Weiss, Oud Bruin, Unblended Lambic and Kriek (Cherry) Lambic.  All of the beers were very good and got high marks.  The Kriek stole the show for me and was probably the best beer I judged all day.
My beers did very well and I'm excited to say that I placed 1st in American Amber, 2nd in Pilsners and got an Honorable Mention in Wood-Aged.  I'll update the individual recipe pages with the scoresheets as soon as I get them.
Thanks Covert Hops!  I had a great time
-chuck