March 24, 2011
So, I've been feeding a Lacto D. starter for a few weeks now in anticipation of brewing a Berliner Weiss.  Having to prepare a room for the new nursery has been eating up spare time, but it's good to keep mom happy!  Since this was a shorter brew plan, I decided to tackle it the other night after a particularly long day at work.  Sometimes, the work of brewing is very relaxing for me.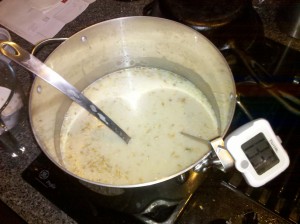 After doing a bit of research for the past few weeks, I settled on a plan involving a single decoction, mash hops and no boil.  I gathered up everything I needed and got started around 8:30pm.  Plenty of time, right?

The grist started as a simple 50/50 pilsner and white wheat malt mix.  At the last minute before grinding I had one of 'those' moments and tossed in an ounce of Biscuit to lend a bit of that comlementary breadiness that the style describes.  I doughed in with 141F strike water (adding that 10 degree loss I've noticed with this mash tun) and hit my initial temp of 125F perfectly.  At the 10 minute mark I pulled a realy thick 2qt decoction and brought it up to 156F for about 10 minutes and then boiled it for an additional 10 minutes.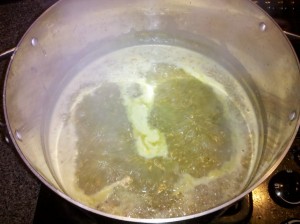 At the 35 minute mark I added the decoction back into the mash and came within two degrees of my target for a mash temp of 144F.  I had some boiling water prepared and was able to raise the temp with the addition of another quart.
Now, the sparge is where things started to drag.  I had my sparge water sitting at 165F, but I didn't do a mash out step.  There were about 1/2lb of rice hulls added to the mash, but I guess with the lower mash temp it was just too much and my sparge was a trickle.  When I added the water for the first sparge, I also added another 1/2lb of rice hulls.  It was faster, but still not great.  Total sparge time was around and hour and fifteen minutes.
Once my runnings were all in the kettle, I kicked up the flame and brought it up to 175F.  Once it was past that threshold, I waited for another 5-10 minutes before taking the pot over to the sink to be chilled in the ice bath.  I dropped the temp to around 90F and then siphoned it into the fermenter.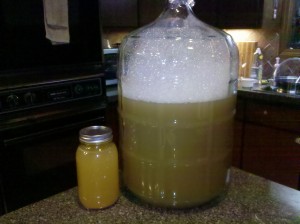 I pitched 750ml of Lacto D starter and brought it down to the fermentation freezer that was set to 75F.  The first 24 hours were done with just the lacto culture, then I pitched about 400ml of Irish Ale starter.  Did you know that lacto will form a krausen?  I went with the Irish since I was already spinning it up for the weekend and because I wanted to see if it would give a little fruitiness.
-chuck
03/22/2011 – Brewed the late shift.  Cleanup done around 12:30am.
03/23/2011 – Added the Irish Ale starter
04/12/2011 – Racked to a 3gallon carboy for secondary.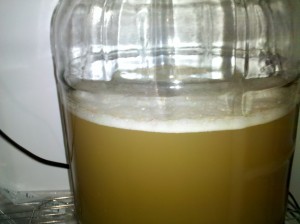 Recipe Specifications
————————–
Batch Size: 4.00 gal
Boil Size: 4.71 gal
Estimated OG: 1.031 SG
Estimated Color: 2.9 SRM
Estimated IBU: 3.9 IBU
Brewhouse Efficiency: 80.00 %
Boil Time: 5 Minutes
Ingredients:
————
Amount        Item                                      Type         % or IBU
2.00 lb       Pilsner (2 Row) Bel (2.0 SRM)             Grain        48.90 %
2.00 lb       Wheat – White Malt (Briess) (2.3 SRM)     Grain        48.90 %
0.09 lb       Biscuit Malt (23.0 SRM)                   Grain        2.20 %
0.40 oz       Hallertauer [3.90 %]  (15 min) (Mash Hop) Hops         0.8 IBU
1.10 oz       Cascade [5.50 %]  (15 min) (Mash Hop)     Hops         3.1 IBU
1 Pkgs        Lactobacillus Delbrueckii (Wyeast Labs #43Yeast-Ale
1 Pkgs        SafBrew Ale (DCL Yeast #S-33)             Yeast-Ale
Mash Schedule: Decoction Mash, Single
Total Grain Weight: 4.09 lb
—————————-
Decoction Mash, Single
Step Time     Name               Description                         Step Temp
30 min        Protein Rest       Add 6.14 qt of water at 131.4 F     125.0 F
45 min        Saccharification   Decoct 1.79 qt of mash and boil it  146.0 F