February 3, 2011
Occasionally, I will try to post reviews of some of the commercial examples that I pick up.  Especially if I'm doing research for a recipe that I'm developing.  I'll try to post them in the same format that I would use to score a beer in a BJCP competition.  Since these are my opinions and not a blind tasting, I will not be giving them a numerical score, just a range of where I think it might fit.  Feel free to agree or argue!
Since we've just gotten Lost Abbey/Port Brewing distribution in Georgia and since I've recently been thinking about saisons, I'll start with Red Barn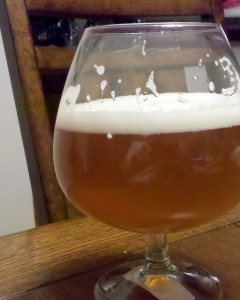 Appearance: Golden orange color with a slight haze.  Thick white head with varied bubbles.  The foam laces the glass.  Bubbles rise up from the glass in thin streams similar to champagne.
Aroma: Aroma is moderately spicy with a light floral note.  Background aromas of citrus rind come up through the background.  Not really all that fruity and no sourness present.  Light ginger presence adds to the phenols.
Flavor: Spice and yeast phenolics dominate the flavor.  Not much fruitiness and no sourness or tartness.  Ginger is easily discernable and also a light taste of the grains of paradise.  Malt and bitterness seem to be in balance with a slight lean toward bitter.  Did not pick up any hop flavors.  Alchohol was not hot or solventy and finish was dry with a lingering belgian aftertaste.
Mouthfeel: Body felt very light in the mouth with a nice high carbonation.  Alchohol warming was quite low.  Finish was very dry.  There was no tartness or sourness to the aftertaste.
Overall Impression: Overall, not a bad saison.  I felt that it was a little out of balance as it favored the spices and phenols and covered up and of the citrus aromas and flavors that should have been there.  It's very refreshing and easy to drink.  I will probably by this again.  If I were scoring this at competition I would imagine it would fit into the 38-44 range.  There were no flaws present and it only needs some minor tweaking to fit within the style guidelines.  If you haven't had this one and enjoy the Saison style, I say pick one up.
-chuck