February 14, 2011
In honor of our Final Gravity friend Matt who has moved on to a professional brewing carerr with Abita Beer and in honor of it being Mardi Gras season, I'm presenting tasting notes on Abita's seasonal Maibock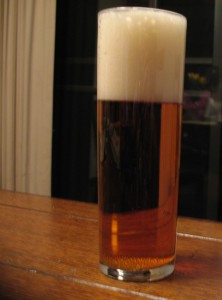 .
Aroma:
Moderately rich malt aroma with milt hints of grainy pilsner.  Hop aroma is a very low floral noble variety if anything.  It's 99.5% malt.  Very clean with no diacetyl (think fake popcorn butter for those that aren't familiar with the term) or fruity esters.  Alcohol is not discernable in the aroma.
Appearance: Brilliantly clear amber/copper color.  Large creamy white head fades somewhat slowly.  Foam lingers on the glass leaving lacing.
Flavor: Strong pilsner malt flavor with a bit of bread crumbs.  Slight hint of spicy noble hop flavors.  Very clean, dry finish leaving just a faint hint of roast.  Perhaps the grist had a dash of roast barley for color.  Moderate bitterness that balances with the malt very well.  No fuity ester flavors or diacetyl.
Mouthfeel: Medium body sits well on the palate and drinks like a lighter beer.  Carbonation is moderately high and almost effervescent when poured.  No harshness from the alcohol or astringency is present.
Impression: Overall, a really good Maibock.  Very easy to drink and very clean.  From the color, I would have expected a bit more of the toast or bread crust aroma/flavor associated with Munich malt, but that may not be present in the malt bill.  I would recommend this lager to beer geeks and the BMC crowd alike.
L'aissez les bon temps rouler!
-chuck