February 19, 2011
Not much to report on the brewing front as we've traveled up to Danville, KY to Centre College for my sister-in-law Anne's first professional blown glass art show.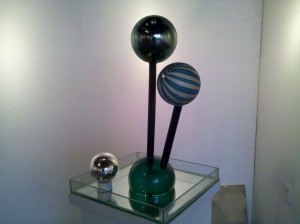 There was a lot of work to be done on Thursday and early Friday before the show and I got to play a soldering iron, epoxy, fishing line and all manner of tools in my ad hoc role of electrical engineer, structural engineer and general contractor.  Good times.
On a bonus note, Anne told me about a little gem of a bottle shop in Danville called V the Market.
The shop is on a corner in what I guess would be called downtown Danville.  It's not a large place and you might walk right past it if you didn't know it was there or weren't looking in the window.  What it lacks in size, however, it makes up in quality.
After a quick browse around it looks like they specialize in craft beer, craft bourbon, artisan cheese and hand crafted chocolates.  I quickly began taking in the beer selection while my father-in-law went for the bourbon.
There were a lot of familiar bottles that we also have distributed in Atlanta, but I was very excited to see Goose Island and Three Floyds.  I also had to pick up a four pack of the local Kentucky Bourbon Barrel Ale.
From Three Floyds, I picked up bombers of Gorch Fock Helles, Blackbeard English IPA and Artic Panzer Wolf IIPA as well as Gumball Head in the growler.  Unfortunately, Dark Lord and Dreadnaught were not to be had.
There were a lot of Goose Island special releases to choose from.  Too many for my wallet to handle.  So, I settled on a six pack of Honker and a bomber of Sofie.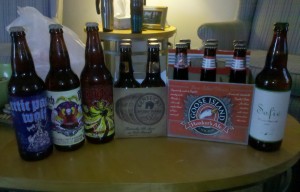 Can't wait to get these home and get some tasting notes up.  Maybe one day we'll see these beers in Georgia.
As for my beer, I've been getting entries ready for the 18th Peach State Brew Off.  Looks like I'll be sending at least four entries this year.  Good luck to everyone that enters!
-chuck