January 28, 2011
Last night I took a sample of the Group Westvleteren 12.  All-in-all not a bad brew.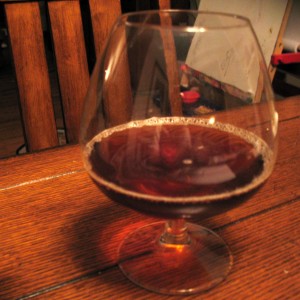 I've never had the original so I don't have a frame of reference for comparison.  I can, however, describe this one.
Aroma:
Starts out with a big malt aroma with lots of grape esters.  Very similar to a grape soda.  Very soft alcohol enters about midway through.  No phenols to speak of and no hop aroma or diacetyl.
Appearance: Medium to dark ruby-brown color with a medium-low off-white head that faded very quickly.  Color is an amber with orange tint when held to the light.  Very clear.  Slight legs when swirled around the glass.
Flavor: Starts with an up front alcohol warming and a light molasses or toasty caramel.  From there it moves into the same grape ester flavors that were in the aroma.  There is just enough bitterness to back up the strong malt presence.  No hop flavors detected.  Finishes with a light maltiness that is very clean.  It's somewhat sweet while also somewhat dry.  Malt does not stick to the palate leaving very little aftertaste.
Mouthfeel: Carbonation was very low and difficult to pick up.  The medium body was very smooth and not cloying.  Alcohol presence was not hot or astringent.  Quite easy to drink for a big beer and has that character of Belgian 'digesability'.
Overall: I think this turned out well for a first attempt at both the homemade D2 syrup and the beer recipe.  I'll probably try to pitch a larger starter next time to try to eat up a few more points.  I was a little concerned with the higher final gravity of 1.024, but it seems to be doing well.  The keg was only hit with CO2 a few times to keep it sealed under pressure.  The low head from the pour and light carbonation can be corrected by leaving it on gas for a while to properly carbonate.
Note: I also had a gallon of this that I separated and dosed with Orval dregs.  The bugs have been working for about 2 months now and that is shaping up to be very nice.  It is mostly as descirbed above with a medium-low, well-rounded Brett character.  I don't have enough to take hydrometer readings, so I'll probably let it ride for another six months or so and then bottle it up.
-chuck