January 15, 2011
Recently I've been reading quite a bit of the blog The Mad Fermentationist.  Particularly of interest were the three dark saisons that he has done.  I've often thought that the farmhouse ale style has a lot of room to play with different ingredient combinations.
So, this recipe draws from his Fig Honey Anise Dark Saison and Dark Saison with Black Cardamom.
10.00 lb     Pilsner (2 Row) Bel
1.00 lb       White Wheat Malt
0.50 lb       Aromatic Malt
0.25 lb       Carafa II
1.25 oz      Amarillo Gold [7.20 %]  (60 min)
0.50 oz      Amarillo Gold [7.20 %]  (20 min)
1.00 lb       Buckwheat Honey (flameout)
1.00 lb       Blackcurrant jam (flameout)
1.00 lb       California Dates deglazed with 0.5 cups of sweet port and 1 cup first runnings
1 Pkgs        Belgian Saison (Wyeast Labs #3724)
I did a 60 sacch. rest starting at 148F.  Due to the freak winter storm in Atlanta, it was freezing in the garage that evening and I lost around 5F over the course of the mash.  No biggie, this one needs to finish dry.
The boil was also a little problematic.  Between the cold drawing out the time to boil and some difficulty with one of thoes swappable propane tanks supplying adequate fuel to my burner, my boil wasn't as vigorous as I would have liked.  I did do a 90 minute boil, so hopefully we won't have any DMS issues.
The honey and blackcurrant jam went into the kettle at flameout.  The deglazed date mixture went into a sanitized 6 gallon carboy and I filled 4 gallons of the wort onto it.
The remaining 2 gallons of wort went into a 3 gallon carboy to be fermented separately.
The bonus from the cold weather was chilling was extra efficient… once I got the hose thawed out that is.  I had to submerge it in a bathtub full of warm water.  Wort into the fermenter was below pitching temp.  I divided a 1L starter between the two fermenters and let it slowly come up to the 72F target fermentation temp over the next 24 hours.
On day 3, I ramped the temp up to 84F since it looks like fermentation was already lowing.  This yeast is notorious for stalling at 1.035 and taking 4-6 weeks to finish out after that.  It should finish very dry, however.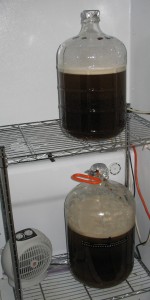 I'm tossing around ideas for the 2 gallon small batch.  I'll probably pitch some funky cultures, jam an oak dowel in a stopper and let it ride for 6-9 months.  We'll see how it tastes in 3 or 4 weeks and go from there.
-chuck
- 02/03/2011 – Took samples from each batch.  The smaller without dates has a nice well-rounded saison flavor/aroma.  Both spiciness and a little citrus/tartness are present.  The buckwheat honey has a subtle presence and there is a little fruitiness from the black currant jam, but not much.
The batch with the deglazed dates is a bit drier and has a bite to the finish even though it's still flat.  The dates and port do not seem to have contributed any flavor/aroma.  I'll be bottling them in a week or so.
02/08/2011 – The small batch with no dates went in a keg tonight.  It finished at 1.007.  Dry with a nice well-rounded fruitiness.  I would have bottled, but didn't have enough of the thick glass Belgian bottles around.  Will carb to around 3 volumes.  I think the other batch may get some dried apricots.
02/22/2011 – Bottled a few of the date-free batch for the Peach State Brewoff.  It's really maturing into a very nice beer.  The flavor of the buckwheat honey is starting to shine through and balances well with the saison flavors.  The batch with dates was feeling thin and lacked complexity, so I added 18oz of dried organic apricots and some Orval dregs.
03/13/2011 – Received a Score of 29 at the 2011 Peach State Brew Off
04/12/2011 – Second half got kegged tonight.  Aroma of dates was much more prevalent.